Auteur:
dust2dust34
Lien de l'originale
: http://dust2dust34.tumblr.com/post/127562781674/a-drabble-based-on-the-new-picture-a-drabble
Genre:
Romance/Humor
Catégorie:
Oliver/Felicity
Résumé:
A drabble based on the new picture
Spoiler:
Set in season 4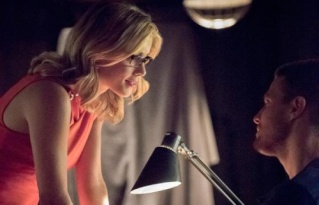 ---------
"You want pickles?"
"When have I ever wanted pickles?"
"Sometimes you want pickles, Oliver, and it only took that one time for you to steal my pickles for me to ask you this every single time. I love pickles, which means I don't stand for my boyfriend stealing pickles off my hamburger."
Oliver chuckled, pinching his lips to keep the grin that was threatening to break his face as he looked up. He set down the arrow he'd been working on next to the dozens of other dull arrowheads waiting to be sharpened and looked up at her.
Felicity stared at him expectantly, waiting for an answer.
About pickles.
They'd just officially decided that this was really happening, that they were going forward with the Green Arrow, that he was donning the hood again… and she was asking him about pickles.
Pickles.
God, he loved her.
"I don't want pickles," he said, and she raised a skeptical eyebrow. This time he couldn't fight the grin. "I don't."
Felicity narrowed her eyes and leaned forward on the table, bracing herself between the piles of arrows, studying him. After a second, she said, "I'm getting you pickles."
"I won't eat them," he retorted.
"Then I'll eat them."
"How about you get extra pickles and I'll just eat yours."
Felicity shook her head sadly. "The man I love is a pickle thief. Where did I go wrong in life?"
Oliver laughed. He reached up and cupped her neck, pulling her closer as he said, "I'm so sorry you had to find this out when you're already stuck with me."
"Me too. I love them…"
Oliver cut her off with a kiss.
"Oh god," Thea groaned from across the room. "You're literally just going down the street to Big Belly Burger, and you can't even do that without making me want to gag."